In 2007, George Steinbrenner, the legendary New York Yankees' owner, re-signed Roger Clemens, who was near the end of his distinguished, albeit controversial, career, with a precedent setting $28 million contract. Although Clemens was one of the most dominant pitchers in major league baseball history, critics considered the move reckless. Not only was Clemens going to miss the first two months of the season, he would only play every fifth game after that. And, Clemens would earn over $1 million per start.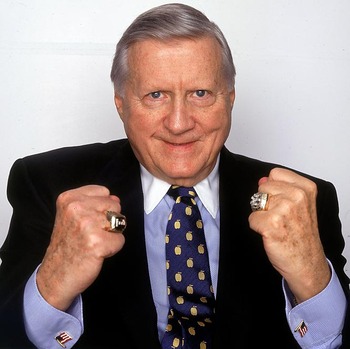 To hell with the critics. Steinbrenner's Yankees record did indeed improve significantly that year (94–68), placing them in the American League Division Series as the Wild Card.* But Clemens' pitching arm was hardly the decisive ingredient—he pitched only 12 regular season games and finished 6–6, with a 4.18 ERA. What did Steinbrenner know that the critics didn't?
Surely GS knew he was getting a good pitching arm, but he also knew he was buying something more than that. Clemens added experience to the line up and leadership in the dugout—something Steinbrenner knew the Yankees could use—but more so, he sent a big message to the rest of the team: Winning is important.
How important? THI$$$$$$$$ important.
Marketing Budgets are not about "things."
A website, CRM, public relations agency, ad campaign, competitive intelligence monitoring service, BD coach, or other, can cost a hefty sum, but without a larger strategy…
A slick website alone is not going to move the dial.
An expensive client relationship database alone is not going to produce the win.
The top public relations firm alone is not what will make the phone ring.
Throwing money at a social media campaign alone won't win the influence you really need.
The best way to develop a law firm marketing budget is to treat that budget as an investment—something that delivers an expected, quantified return over time. I call it the Steinbrenner Rule: A wise investment is always part of a larger strategy.
If you are the type of marketer that looks at the previous year's spending to decide where you want to add more or less, you are treating the law firm marketing budget as an expense and the law firm marketing department as a cost center. While this may seem to be a logical tactic, and it is certainly an approach that has been followed by law firms for decades, it is the faulty approach.
Why? Because all the smart, hard work that marketers do is doffed off as overhead. Worse, the marketing team is not given due respect. We all know that when profits stagnate or drop, the first thing to go is overhead. If you are a serious marketer, you, nor your staff, should be treated like "overhead." So, take matters into your own hands. Always consider the Steinbrenner Rule. You might buy the pitching arm – the thing – but along with the thing there are broader possibilities and opportunity to meet higher objectives. And, make sure everyone in management is clear about your investment strategy.
Marketing Budget Investment Strategy.
You have 50 partners and another 75 or so attorneys. Your website looks tired and worn. You know you need to update the site, but when the bids come in around $100,000, your managing partner goes into shock: "Can't we just add some new photographs?" Yes, you the savvy marketer explains, but that would be throwing money away because you can't just paint over a chipped foundation.
This project is an investment that will enable us to do X, Y, and Z, which are in our annual objectives. Things have changed in the past three to five years. The website is no longer a brochure. A platform must be strong enough to support integration and inbound tactics. Social media channels, analytic tools, and this and that will allow us to better understand the market and our performance.
It is an investment strategy. Simple math: The bids come in at $100,000—which is pretty much what it takes at a minimum to produce a quality website for a 100+ attorney firm these days, including photography and content development. So, think of it as $2,000 per partner investment in infrastructure. Considering that the average lifetime of a decent website is about three years, that per partner investment is really only $1.82 per day.
Although a $1.82 per day, per partner is ridiculously cheap—you can't even buy a pack of gum for under $2—the objective is to get your law firm to understand it is not a cost, it is not overhead, it is an investment in your success.
What will your investment achieve over time? Will it help you measure market interest; build your mailing list and advance your relationships; provide a platform for thought leadership, particularly for X, Y, and Z partner; or will it position your most promising practice area more prominently? What specific marketing plan objectives will it meet? Will it serve as a client resource; an inbound tool for lead generation; or an image upgrade to communicate growth, or etc.? Those are the answers you need to have before you proceed with your investment. Put them in writing so that you and others can be reminded of why you invested, and can monitor and measure your outcomes.
Marketing Budget Valuation
Although we don't have the luxury of exact measurements like they do in baseball stats, measuring your marketing investments can be done, allowing for that fact that sometimes it is not one thing, but rather one thing that works in concert with other things, especially where there are measurable data points.
Ideally, if you could conservatively project double the initial investment, so, $4K per partner or $200K for the firm, that's not too shabby. Of course it could be more, but you have to be able to prove that.
Voila! In a blink of an eye the $100,000 investment is a savvy investment strategy, not an expense, not overhead. And maybe that is just the "message" your management team and/or partners need to hear, and inspire them to "up" their game.
Taking Risks.
Another illustration can be found in social media. Is it overhead, expense, or an investment?
Many firms balk at the cost of bringing in the level of talent and/or tools that it takes to be successful in social media. They will throw a few dollars at it to set up blog, train a few younger lawyers, or add a support staff and write it off to "costs." Admittedly, even the best of the breed still report that a lot of trial and error is involved, but despite that, social media initiatives are showing returns in top line revenue, at least for those who treat it like an investment, not a cost.
Social media is a platform for many tactics such as exposure, advertising, insight, relationship building, networking, lead generation, and a place to distribute thought leadership content. But it requires a focus on the bigger opportunity. Put marketing budget goals in writing. Know exactly why you are investing a $100,000 in a particular tool, personnel, or outsourced support. Will it send a big message to your law firm team that you are not content to hang around the edges? You bet. Will it convey that you are willing to risk new channels for developing business? Maybe that is just the thing your attorneys need to see in order that they rally around.
The Steinbrenner Rule.
Where there is a defined objective—a winning season and a chance at the title—it is not necessarily a direct path. A wise investment will consider all of the gaps that need to be filled. They may not be obvious to others (your critics), but your measured approach to investment should enable your progress.
A strong pitching arm is not enough. You need leadership in the dug out, and send a message to the team: Winning is th$$$$s important. Don't let the critics sidetrack you.
*About the Yankees 2007 season:
The New York Yankees were the 2007 American League Wild Card qualifier with a winning season of 94–68. Clemens re-aggravated a hamstring injury during Game 3 of the 2007 ALDS and was removed from the team's starting rotation. With his last pitch, he struck out Victor Martinez of the Cleveland Indians, Central Division champions (96-66). Indians won the series, 3–1.
About Roger Clemens:
On August 18, 2007, Clemens got his 1,000th strikeout as a Yankee. He is only the ninth player in major league history to record 1,000 or more strikeouts with two different teams. Clemens has recorded a total of 2,590 strikeouts as a member of the Red Sox and 1,014 strikeouts as a Yankee. Of his nearly quarter century in the Major Leagues, 13 years have been spent with the Red Sox and 6 with the New York Yankees. He retired September 16, 2007.